You need a video, but you want something different from the same. old. thing.
You know what we mean, you've seen a hundred of them, but...
You want something Cre-A-Tive... Exciting!! & Engaging...
And you want it to be EASY!

Welcome to TheBusinessVideos.com

A creative audio & video production studio.
We love creating awesome media content for your business!

Our video productions are used by dozens of businesses and brands around the globe,
both internally, and for public use on television, radio and the web.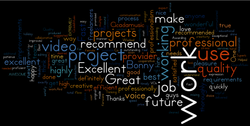 HOW IT WORKS
Send us your script, images and assets (or nothing at all!) & let us take care of the rest. You'll be thrilled with how easy it is to get great videos for your business needs!
You can rely on our comprehensive audio & video production services including:
► High quality video editing of HD video, stock footage, graphics and screen recordings,
► Expert English business scriptwriting and video SEO,
► Professional Hollywood trained acting and voice talent,
► Studio quality audio recording, engineering and editing,
► DJ style mixing of a royalty-free music soundtrack,
► Custom graphics and banners for your clickable call to action, contact info and logo,
► Animated intros, on-screen text, lower thirds, sound effects, and much more!
Need a fully produced radio advertisement or audio announcement?
No problem, we do that too!
---
PRICING
Pricing varies, depending on each project's unique needs.
Full video productions can cost around $1000-1500 USD, delivered within three weeks.
No project is too big or too small, from under $100 to over $25000.
We know how to accommodate a variety of project scopes, budgets and deadlines.
We even travel, so don't be afraid to ask!
Contact Us
to order your business video and other creative services.